Broward Paint and Seal – Exterior Painting – Painters, Broward County
Exterior Painters, Fort Lauderdale
Broward Paint and Seal is a renowned interior and exterior painting company in Broward County. We provide interior and exterior painting to residential and commercial business and clients. From time to time we come up with the tips of how to take care of the painting problems that all of us face. Here are some of the issues that Broward Paint and Seal will cover with you when it comes time to paint the exterior of your home. Many problems associated with paint such as peeling and flaking, chalking, and mildew are common. These problems are typically a normal part of the aging process of paint. Also with weather conditions and pollution, exterior paint tends to peel, flake and fade. Paint damage can make the exterior of your house look old and rundown. A fresh coat of paint can change everything; Exterior painting not only beautifies your home, it also creates a protective barrier against the elements that attack the integrity of your house. Painting your home's exterior can greatly increase the value as well as improve the looks of your property. Preparing the surface to make sure your exterior painting job looks good, you will need to prepare the surface of your house or office prior to painting. It is important to remove as much of the peeling paint and debris from the surface as you possibly can. To wash away any dirt or debris that have accumulated on the house, building or office using a pressure washer. After the surface of the house, building or office is clean and dry, you may want to consider applying a coat of primer. Most exterior paint adheres better to surfaces that have been coated with primer.
Commercial and Residential Exterior Painting choices
Do not buy low-priced paint as it will end up costing you more than you save in the long run. Buy a high quality paint that is made specifically for exterior purposes. Choose something that matches your house, building or office style and decor, as well as your personal preferences.
Exterior Painting Fort Lauderdale Company
When painting the exterior of your house, building or office you should wait for a cool, dry day. Never begin a painting project if high winds or rain are in the forecast. Begin painting at the top of the house, building or office, then work your way on down. Paint slowly. If done properly, you will only have to paint the exterior of your home or office every 10 to 20 years so there's no need to rush. If you decide you need two coats, make sure the first coat has completely dried before getting started on the second. Normally, it takes exterior paint anywhere from 24 to 48 hours to fully dry. For more information on hiring a professional painting company in the Fort Lauderdale, Broward County area give Broward Paint and Seal a call.
Exterior House Painters and what to look for on your house.
Chalking: Most people overlook this problem which actually is the result of a chemical breakdown of the ingredients in paint called "chalking", remember the powdery substance we have all noticed at some point or another. Environmental elements break down the pigments, binders and solvent in the paint and chalking is mainly caused by poor priming and over thinned paint.
Chalking can be removed with ease by washing the affected surface with a solution of powdered laundry detergent and water. After preparing the solution, just apply it and then take a clean cloth or nylon brush to scrub the surface with force. If this doesn't clear away the chalking then the surface should be washed using trisodiumphosphate (TSP) which unfortunately, may dull the finish and you will have to apply a fresh coat of paint once the chalking is removed. If the chalking is too much, you may want to use a "surface bonder" with a primer to improve last coat adhesion. Proper priming and painting your siding can be very helpful in preventing chalking in future.
Rust: Rust stains are majorly caused by the spoiled nail heads because when nails & moisture mix, nail heads tend to rust and create spots on painted surfaces on your home. This is mainly caused if you use uncoated steel nails where excessive moisture exists under the paint. Recommended is that you should remove the rusting nails and replace them with new galvanized nails or ceramic-coated construction screws as they are rust-resistant.
You might say that it is not possible to remove rusty nails because of the condition they are fit in, or any xyz reason. A workaround to removal of nails is to slightly sand them with sandpaper and then dab with a rust converter. Also, all the surrounding area that has rust stains must be treated with a shellac-based primer-sealer followed by a final coat of paint. As preventive measures, check for any leakage from nearby plumbing pipes, and possible sweating caused by heat from a bathroom or kitchen. If you are able to locate the source, try to eradicate the issue by shutting off the condensation that causes the moisture.
Cracks and Chips: Painted finishes often come down with time with the cracks and chips illness. In painting terms it is called "alligatoring" because the cracking on the paint surface looks like the regular scales of an alligator. This condition arises if hard-finish paint is applied over soft paint or flat paint is over high-sheen paint. Usually scraping, sanding, filling and priming as the precautionary work will help to not let this problem happen.
Mildew: Mildew causes the formation of brown, black or gray spots or blotches on the surface of paint or caulk because of fungi on the surface of the paint. The areas like underside of eaves which have northern exposure and receive no direct sunlight are where the problem actually starts from. Most common reasons for mildew growth are if you use low quality & insufficient amount of paint over a substrate or coating on which mildew is present, or fail to prime bare wood before painting.
To remove mildew you should first make sure that the discoloration really is mildew and not just dirt by applying a few drops of household bleach to it. Rinse the area after five minutes. If the dark color disappears then the problem is probably mildew. You can remove all mildew by scrubbing with a diluted household bleach solution made of one part bleach and three parts water. Make sure to take the proper safety precautions by wearing rubber gloves and eye protection. Also, make sure to leave the bleach on the surface for several minutes before rinsing. All of this will definitely help you, but highly affordable expert assistance is always just a phone call away at Broward Paint and Seal.
Whether you are looking for Fort Lauderdale Interior or Exterior Painters our experts can efficiently manage and cater to any of your commercial, industrial and residential painting and maintenance requirements.
Plantation Painters, Sunrise Painters, Fort Lauderdale Painters, Hollywood Beach Painters, Dania Beach Painters, Pembroke Pines Painters, Davie Painters, Lauderdale by the Sea Painters, Broward County Painters, Oakland Park Painters, Boca Raton Painters, Deerfield Beach Painters, Broadview Park Painters, Margate Painters, Coral Springs Painters, Cooper City Painters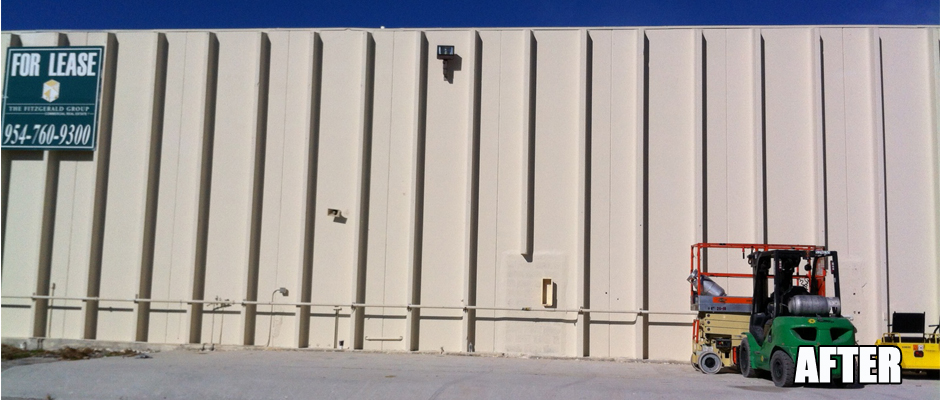 Plantation, Fort Lauderdale, Sunrise, Oakland Park, Margate, Hollywood, Dania Beach, Miramar, Broward County
Interior and Exterior, Commercial and Residential Painting Services for all of South Florida.